Settings Dialog
Monitoring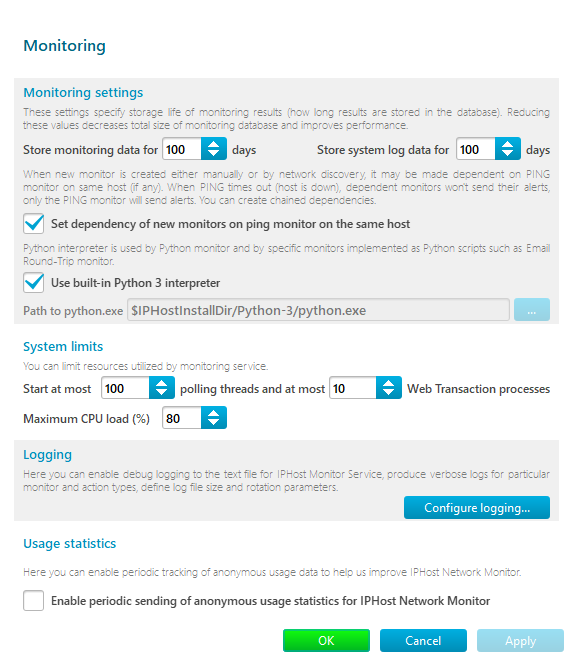 This page contains various monitoring options. It allows you to fine-tune the monitoring process.
The Monitoring settings section contains the following settings:
The number of days to store monitoring data and log messages in the database. The default value is 100 days for both settings. You can decrease this number if you don't need to analyze data over one month old and want to prevent the database from growing huge.

An indication whether newly created monitors should be set to depend on a PING monitor on the same host, if any. This dependency type allows avoiding extra alarms if a given host stops; the alerts for its PING monitor will only be executed, and the other monitors will silently enter the Stopped by Dependency state.
The System limits section contains a maximum thread count in a thread pool and maximum CPU load thresholds. If the thread count limit or CPU load limit is exceeded, starting new tasks such as polling a monitor or sending a report is delayed. The default values of these settings are sufficient in most cases.
Another limitation is the number of half-open TCP connections. Since Windows XP SP2 and later Microsoft has introduced a hard limit of 10 half-open TCP connections as explained here. This limitation doesn't affect the Windows OS releases starting from Windows Vista SP2 as stated here; it also doesn't affect server platforms. In accordance with this OS limitation, the monitoring service maintains a pool of TCP connection 'slots'; by default, the pool size is set to 8 for desktop Windows OS's, and to 1000 for server platforms.