Monitoring and alerting methods supported
This page helps you to get familiar with the main features and basic usage of IPHost Network Monitor.
IPHost Network Monitor is a Windows software for network and server monitoring. You can use it on Windows XP, Vista, 7, 8 or 10, and Windows Server 2003, 2008, 2012 or 2016, 64-bit systems are also supported.
IPHost Network Monitor allows you to organize continuous monitoring of your company's critical servers, applications and network equipment.
Supported monitoring methods are:
SNMP v1/v2c/v3;
SNMP traps;
WMI (Windows Management Instrumentation);
Web sites and services monitoring – HTTP/HTTPS GET and POST requests including response validation, FTP;
database servers – Oracle, MySQL and MS SQL Server, others via ODBC;
mail servers – SMTP including actual sending of test e-mail message, POP3, IMAP;
file size, disk space, Windows service availability;
basic connectivity checks – PING, TCP connect, UDP datagram send/receive;
run a script or program, including Nagios plugins;
run a script on remote computer via SSH;
traffic monitoring via SNMP and WMI (average speed and data volume for specified time interval).
You can configure IPHost Network Monitor to alert you if a given monitor enters a problem state (performance or availability issue). The following alerting methods are available:
send e-mail;
send SMS (short message) via GSM phone/modem or email;
set SNMP variable value;
play sound (both in web interface and monitoring service);
execute a program (for automatic problem resolving);
execute a script on remote computer via SSH;
show pop-up message;
send message to instant messenger (Jabber/ICQ/AOL IM).
Download and Installation
First of all you should install IPHost Network Monitor on your Windows-powered computer. You can download the latest version of the software from the Download page.
Installation process is plain and straightforward. You can select a folder where you want the software to be installed. Installer includes Firebird relational database server that is used to store monitoring data and configuration and Apache web server that provides access to reports, graphs and other results.
IPHost Network Monitor consists of the following components:
Monitoring Service is a core part of the software. It does the tasks of monitoring and alerting.
Client Application is a Windows application that allows to configure hosts and monitors, their dependencies and other parameters, alerting rules and state conditions.
Web Interface to provide various reports.
Monitoring results are stored in the relational database (Firebird). You can set how long you want to store results (100 days by default).
Configuring a monitoring system
First start
After installation you will be offered to start Network Discovery or create a monitor. If you click Quick Network Discovery button it will start network discovery with default settings (discovery in whole local network via local agent, all monitor types, start monitor after discovery and no scheduled discovery). Network discovery helps you to create a basis of your monitoring configuration by automatic discovery of hosts and network services on them. With the wizard you can detect most of networking services, for example: PING, SNMP, Telnet, HTTP, FTP, SMTP, POP3, IMAP, and other TCP/IP services.
If you click Advanced Network Discovery button it will start Network Discovery wizard where you will be able to change any network discovery setting. On the first page you can either select the range of IP addresses (by default it is a mask of current subnet that is detected automatically) or provide a list of names or IPs of hosts that should be checked. On the second page you can select what types of network services should be detected during discovery and what ports should be checked (you can provide additional ports for each service). By default IPHost Network Monitor starts monitoring of discovered monitors just after monitor has detected and created. You can set IPHost Network Monitor to not start monitors automatically and leave them in 'Discovered' state for your review.
On the third page you can set IPHost Network Monitor to repeat network discovery according to schedule you set (every few hours or at some time on some week days).
If you did not specify some important system settings you will be asked to do so. It is strongly recommended to provide e-mail address for alerting (without the address you will not get any e-mail alert or report). You can specify:
Administrator e-mail address along with the main and auxiliary SMTP servers that will be used to send e-mail alerts and regular reports.
Access Password that protects sensitive information stored in the monitoring database from unauthorized access. You can also set IPHost Network Monitor to use this password to protect Web Interface.
Windows user account that IPHost Network Monitor should use by default to monitor resources that require authentication and to automatically discover such resources.
If you choose to create a new monitor it will start the New Monitor Wizard. You will be able to select a monitor type, specify a host name and host group, specify monitor parameters.
Windows Client application overview
Now take a look at IPHost Network Monitor Client application layout. This application is the control center of your monitoring system.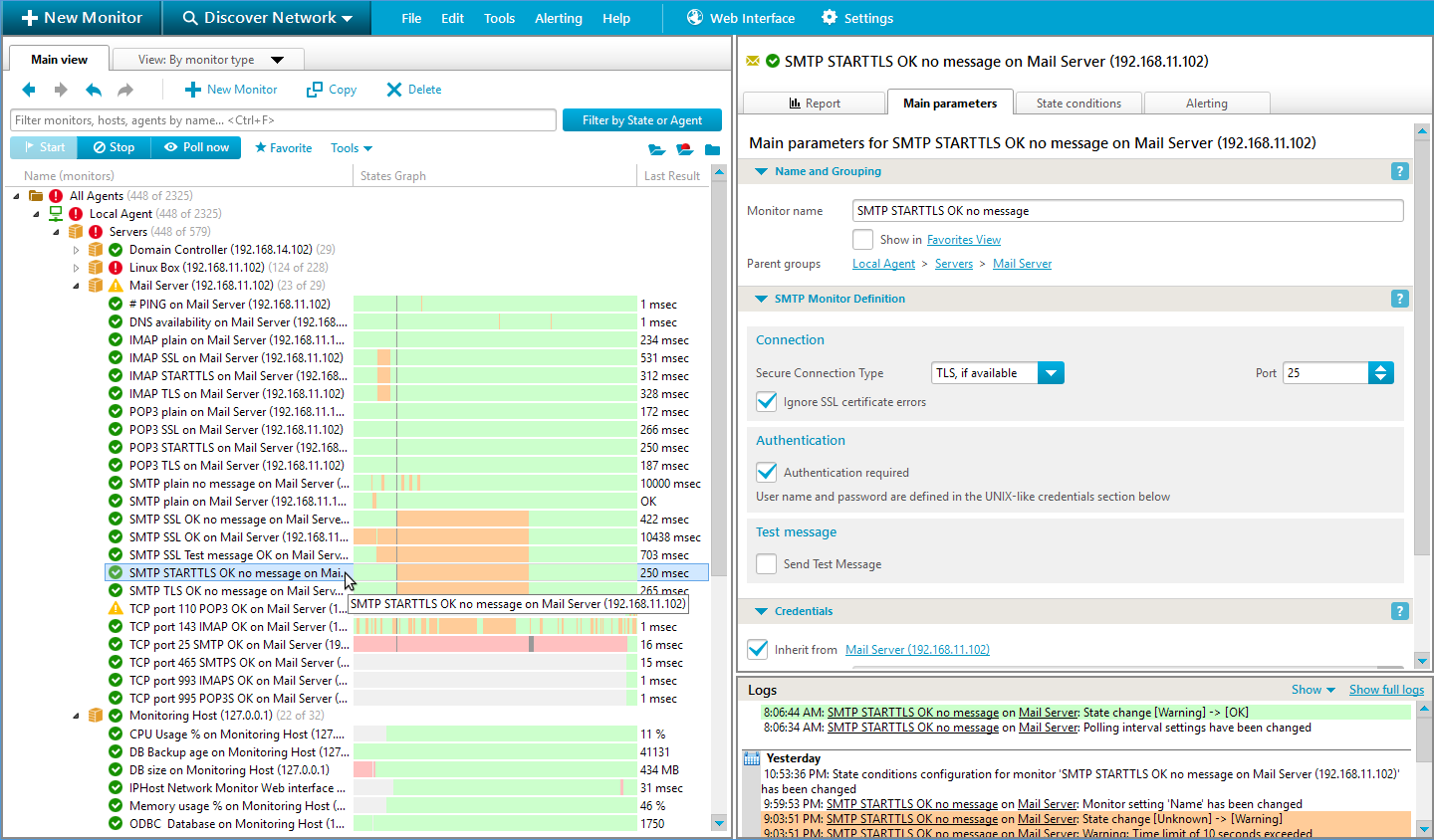 Tree Views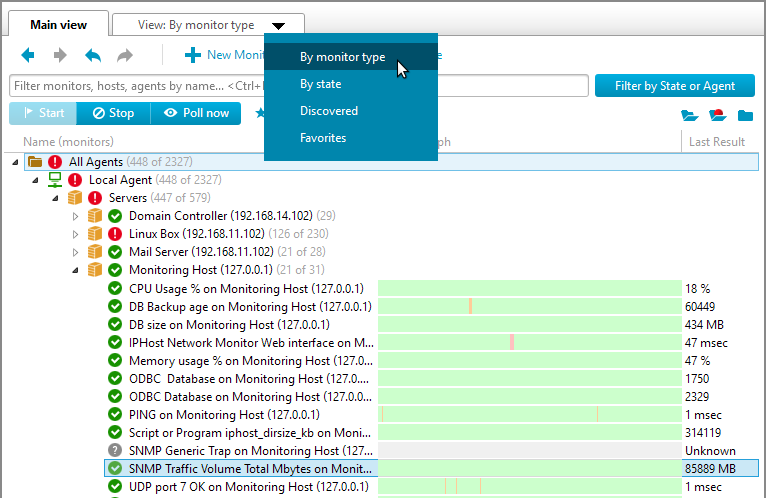 Parameters/Results Pane
Main parameters tab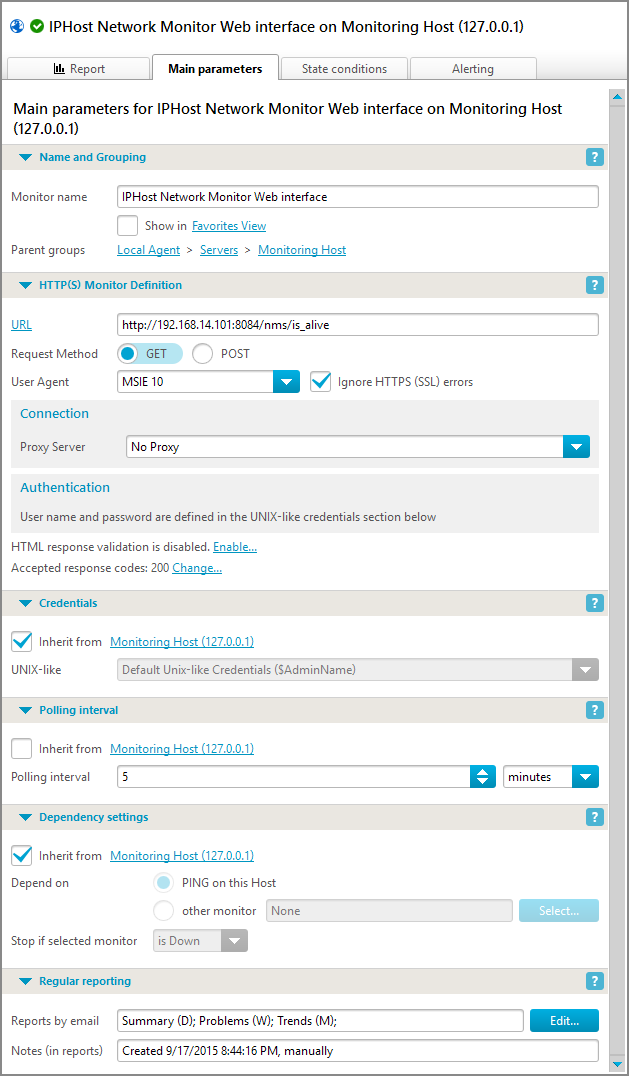 Monitor parameters are divided into sections, for example:
Name and Grouping section contains a monitor name and lists its parents: host, host group and monitoring agent as a clickable links. You can rename the selected monitor, or inspect its parents here.
Monitor Definition section contains significant monitor parameters: what exactly this monitor should check. This section depends on a monitor type. For example, you can specify: URL and port for HTTP(S) and WTM monitors, server address and service name for Windows Service monitor, server address and WQL query for WMI monitor, credentials for resources that require authentication.
Polling interval section allows you to set an interval between checks. The default interval is 30 sec for Basic Connectivity monitors and 1 min for other monitor types.
Dependency settings section allows you to set whether a given monitor should stop if another monitor changes its state. By default a newly created monitor depends on a PING monitor on its parent host. For example, you can specify that a given WMI Traffic monitor depends on a PING to a gateway between the monitoring host and the monitor parent host.
Regular reporting section allows you to configure what reports do you want to receive from this monitor. There are three kinds of reports: Summary, Problems and Trends, and you can receive them once a day, once a week and/or once a month.
For a host you can set maintenance schedule and select how the monitoring service should connect to this host: using IP address or DNS name.

State conditions tab
State conditions tab allows you to specify when a monitor changes its state. This tab contents depends on monitor type and contains various sections that define the exact conditions for a monitor to switch to/from problem state: Down or Warning.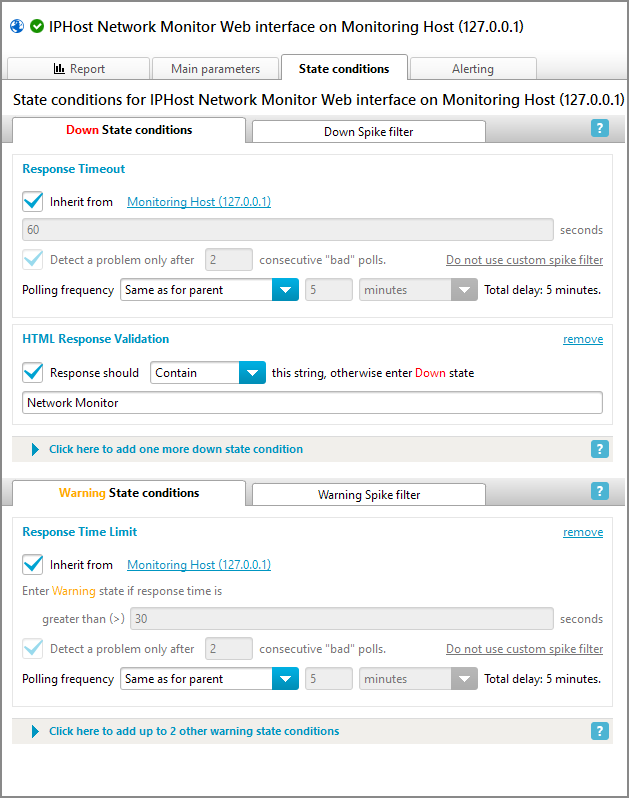 Alerting tab
Alerting tab allows you to configure how the monitoring service should inform you on monitor state changes and events. Currently you can use the following alerts:
to send an e-mail
to send SMS via e-mail
to show pop-up window on the monitoring host
Net Send a message
to start a program on the monitoring host
to send a message to Instant Messenger: Jabber/ICQ/AOL
to play sound on the monitoring host and via Web interface
Alerts, state changes that trigger alerts, and schedule are combined into an Alerting rule. By default monitor inherits Alerting rule from its parent host. You can also set monitor to use a predefined (named) Alerting rule, or set individual Alerting rule for the monitor.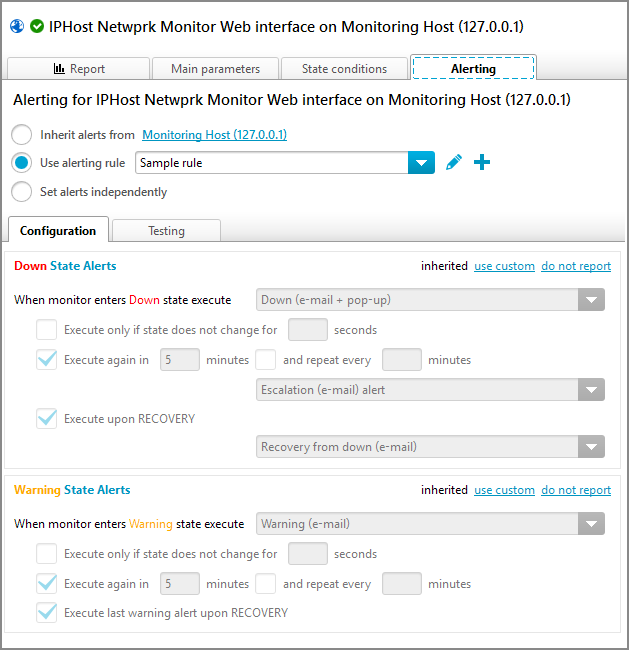 Report tab
This tabs shows a summary report for a monitor, host or group selected a Tree View. Default reporting interval is the last 24 hours till now, you can change the reporting interval in Settings dialog, Reporting tab. Summary report for a monitor includes:
Graph with performance data (values averaged by 10 minutes periods are represented), graph background color represents monitor states during reporting period.
Table with performance and availability summary data that shows:
State changes pseudo graph,
Uptime and downtime percentage,
Minimum, maximum, average and current values returned by monitor during the reporting period compared with the results obtained during the period preceding the reporting period along with the difference showing trend in monitored results,
States log,
States summary (hours and percentage).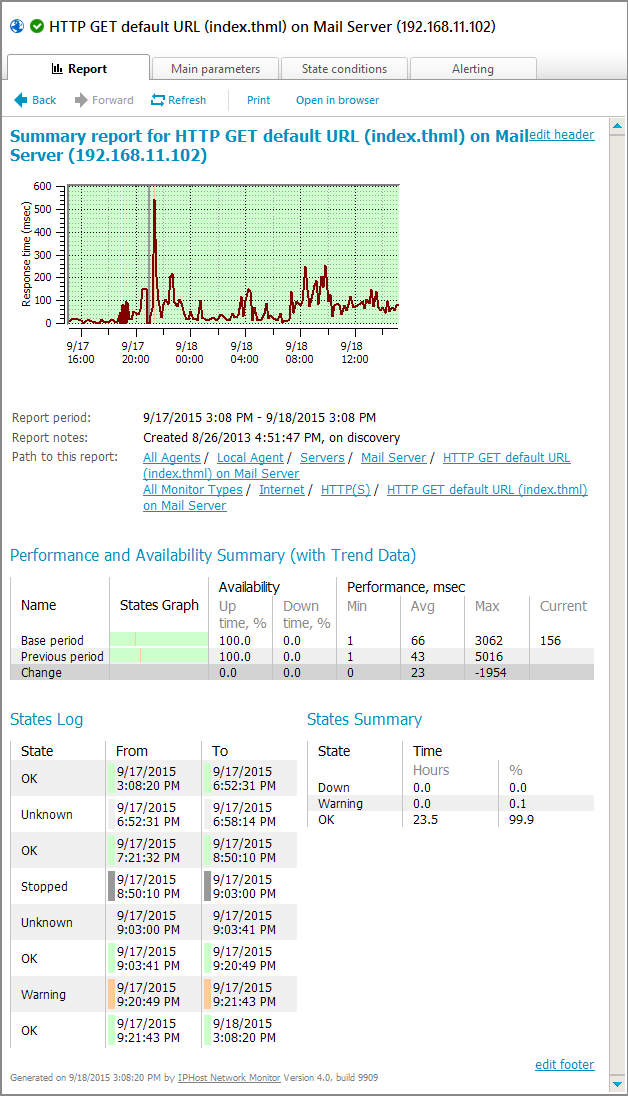 For groups of monitors (hosts, host groups, monitor types) Summary report doesn't show graph, states log and states summary, it represents:
Summary data – total number of polls during reporting period for all monitors as well as number of polls for different states and percentage,
Table with performance and availability summary data for each monitor in the selected group for the reporting period that shows:
State changes pseudo graph,
Percentage of uptime and downtime,
Minimum, maximum, average and current values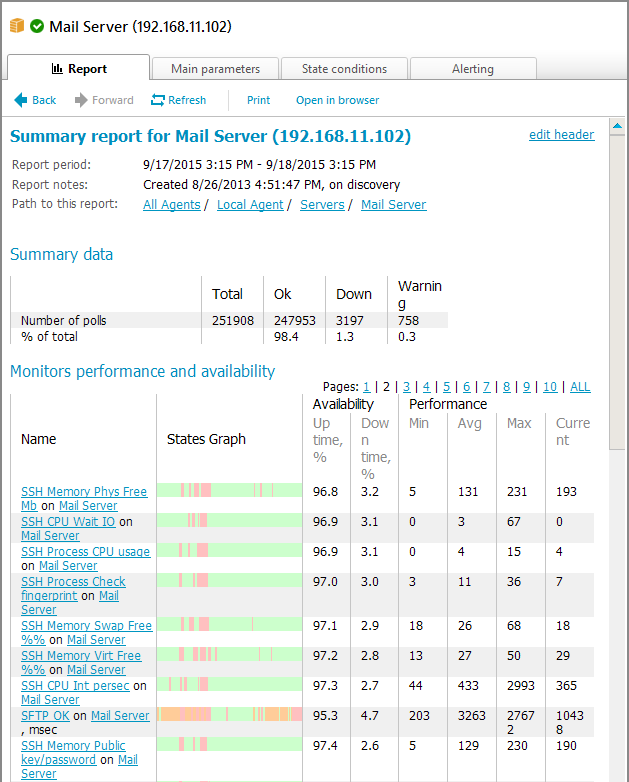 IPHost Network Monitor also has Web interface that provides you access to additional reports and data. Read Help topic about Web interface for details.
Log View
Log View is located at bottom of the right pane.


Here you can see system messages (they are shown regardless of node selected in a Tree View) and state changes along with the error messages or reason of state changes and alerts that are performed as a monitoring system reaction to the state change. State changes and related messages are shown with color background that corresponds to the monitor state. You can select what messages: system or state changes, or both to show.
IPHost Network Monitor 5.1 build 13330 of July 27, 2018. File size: 60MB