Parameters/Results Pane: Report Tab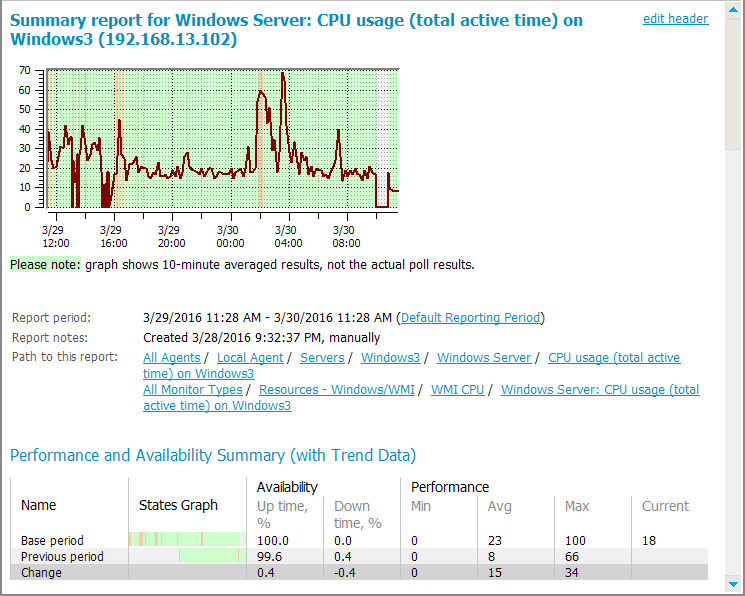 The Report view Tab displays an HTML report for a currently selected in the Tree View monitor or group. The tab shows a detailed report including a performance graph and all monitor state changes for a single monitor. The tab shows a summary report for hosts, monitor types, and other monitor groups. Reports are described in more detail here.
Reports contain hyperlinks to the parent items of the monitor or group as well as links to all monitors contained in the group, and to their hosts. When you click a hyperlink, a report for the corresponding item is loaded; besides, the item is selected in a tree in the Tree View Pane and its data is loaded in the remaining Parameters/Results Pane tabs and Logs Pane.
The default report period is 1 day (24 hours) till now. You can adjust a report period by setting the number of days and hours in the Reporting tab of the Settings dialog (click the Settings button on the program toolbar or select the Tools > Settings menu). Note that graphs always show average values for 10-minute intervals, so defining too short reporting periods is not practical.
If you want to open the IPHost Network Monitor Web interface in the browser with a current report pre-loaded you should use the Report Tab toolbar. The toolbar also allows you to navigate in the report and print it. The toolbar contains the following buttons:
Back and Forward – provide standard two-way navigation as in a Web browser. When you use these buttons, not only the Report Tab content is changed but all the other panes are updated too.

Refresh – reloads a report from the Web server; the report is actually regenerated using the latest monitoring data.

Print – opens the standard system Print dialog that allows you to print a report.

Open in Browser – opens the system Web interface in the browser and loads a current report.
When Report Tab is active, reports are updated periodically (a progress bar in Report Tab indicates that the report is being updated). Individual monitor reports are updated after each poll or once a minute. Group object reports are updated once a minute. These updates can generate a significant CPU load if a selected group contains many monitors; if you want to avoid this CPU load, place the client GUI in the system tray (click the Close button at the right-hand top corner of the window) when you don't use it.