How can I turn off pop-up notifications for several or all monitors?
Q: I have added about 70 printers to the "Printers and UPS" group and have set them all to use the "No Alerts" alerting rule. The system tray icon still shows a red mark and pop-up alert when one is down. How do I stop this? I don't want it to alert me for these printers.
A: Please note that monitor usually inherit alerts from its parent host; pop-up alert can be part of alerting rule used by default. You can open alerting rules list and delete pop-up alerts from rules used by default.
You can also disable pop-ups globally, by unselecting corresponding checkbox from IPHost Network Monitor context menu (right-click on its icon in system tray):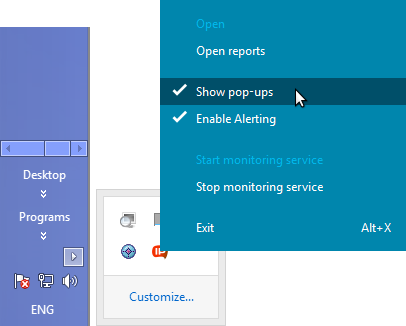 Related topics
Is it possible to monitor devices that are normally offline?